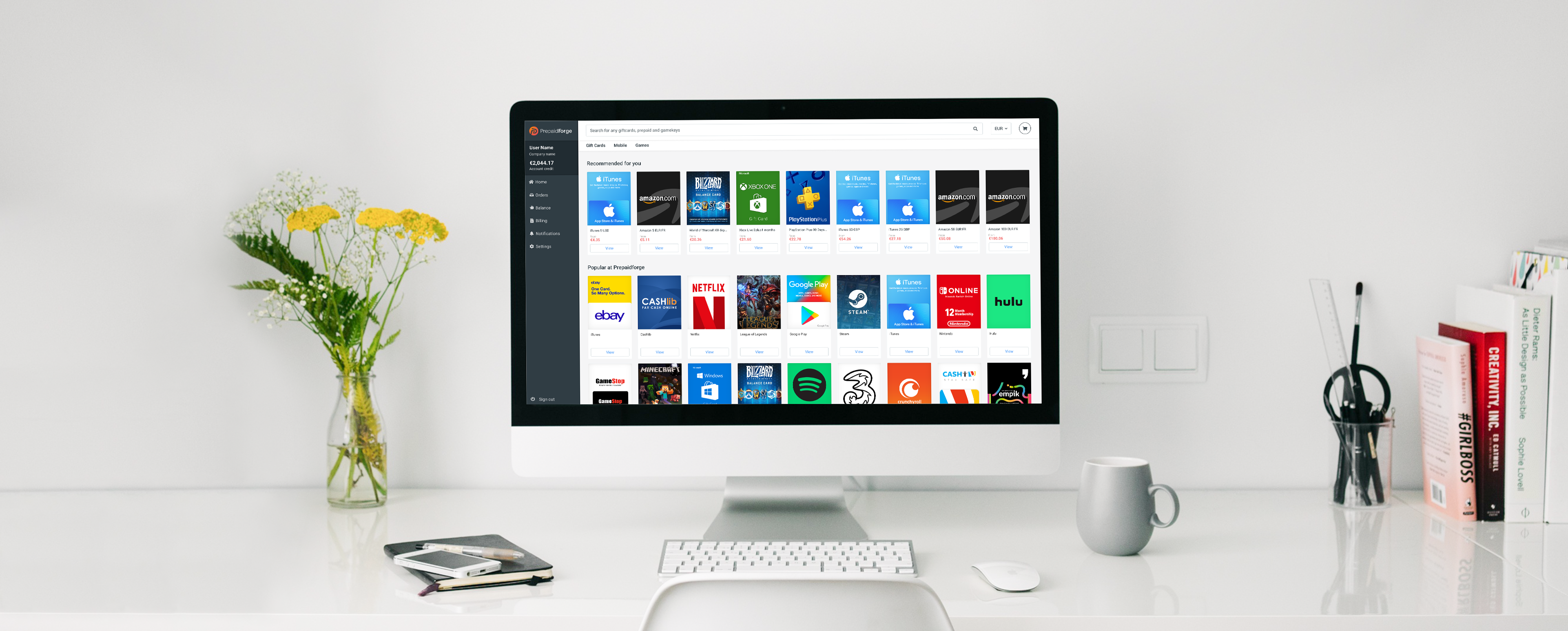 Grow your eCommerce business selling digital goods
Are you looking for new ways to boost your online business fast and risk free? Discover how easy it is to save time and earn money selling digital goods fully automatic. Choose from hundreds of best selling game keys, e-gift cards, prepaid phone and credit cards at discount prices and watch your product margin grow. Grab your opportunity now and be ready to meet your customers' high demands for e-gift cards.
Get your discount
Stop wasting time comparing offers or waiting for a deal. Profit from our best offers and enjoy them with extra discounts. Just sit back and watch your product margin grow automatically!
Find all brands in one place
Browse our wide variety of products and order any quantity of brands. All products will be instantly delivered and ready for you to download or distribute to your customer. No need to go through brand approval!
Take zero risk
With API integration you skip stock investment and have no risk of overstocking. Just top up your PrepaidForge account and your customers pay you while ordering from our stock. And yes, we return your remaining balance if you wish - no questions asked.
Enjoy our service for free
Use our service free of integration, subscription or annual fees. Our wholesale solution is tailored to fit and work with any size of business.
Easily integrate our API
Integrating a broad range of products in your webshop is easy with our well documented API. Our in-house developers make sure the API documentation is up to date and meets your demands.
Tested, reliable & secure
You'll only find products from reliable suppliers in PrepaidForge. We've checked them thoroughly before admitting them to our platform. Whether you buy the codes as scans or text - you can rely on a 100% working code guarantee.
Why us?
Find all brands in one place
Enjoy our service for free
Tested, reliable & secure
Grow your business now
Growth expectation for the e-gift cards business is through the roof: a turnover of $698.2 billion is expected worldwide in 2024. Turnover rates are usually highest around the holiday season. You can prepare to meet your customers' needs by choosing from our wide variety of digital products from best selling brands. Miss a product from our catalogue?
Put our sales team to work
The secret to happy customers
Customers like to receive the best prices and deals on gift cards, too. 64% of customers choose digital gift cards over physical ones because of instant delivery.
What API integration does for you
Profit from the advantages of selling digital goods fully automatic, such as:
Reduced amount of work
Manage your sales performance with insightful reports from our platform
Outsource the ordering process
Instant digital delivery to your customer through your webshop
No need to worry about stock
Learn more about how to integrate our API
Get the best deals
Working with us saves you time you can spend on doing other things, like grow your business. In any case you can leave negotiating the best deals and stock maintenance to us. It costs you nothing, as there are no annual, subscription or integration fees. Integration is easy and our unique discount pricing system makes working with us super rewarding.
Learn more about our discount pricing tiers
Profit from our expertise
We've put our expertise and experience as retailers and web merchants of digital gift cards into reinventing the wholesale supply chain for digital goods. We know that it is hard to find the right suppliers and the right price for products. We know that going through the approval process of brands is complicated. That's why we want to make things easier for you. PrepaidForge does the hard word for you to make all products available in just a few clicks. This way you can sell any product right away without the endless struggle to find the right suppliers or get approved by brands.
Get to know us better
For (future) webshop owners, retailers and eCommerce businesses
Profit from keeping your customers happy
Do you need e-gift cards in bulk for B2C or B2B purposes?
Your secret to economic incentives and rewards
For retailers and wholesalers
Looking for numbers? We've got you covered.